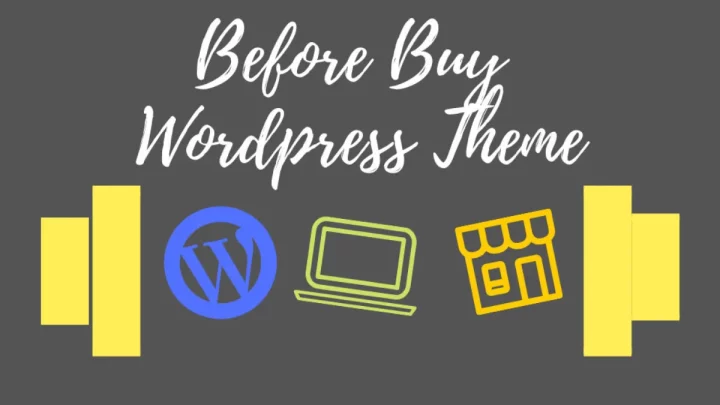 Thinking of customizing your site, here are some things to check before buying a WordPress theme as too many options can create confusion. Themes are one-time buy and should be chosen very carefully, regular theme changes can be difficult at times.
Goal
Write the goal of the website in front of you, and never forget what is the aim of the website. There are seriously good-looking templates on the web right now and they are just mind-blowing. Looks don't matter when inside content is too good, seriously if you are a manufacturing firm then a news blogging site template is difficult to digest.
I bought over 8 premium WordPress themes costing over $500 just because they looked good. Now I could have spent all this money on advertising or a good SEO tool.
System
Checking your system is no harm, Look for all the variables you have on your WordPress root, your server details, your PHP running version, and most important WordPress version. Update them to the latest version for more stability and support.
The newer themes might not be compatible with the older versions of your blogging platform. And the older templates that have not been updated by the creator will not work with the newer versions. Here I have an image below which shows when was the theme last updated and what version of WP it is compatible with.
WordPress Themes
There would be more than a million WordPress themes available online, from free to fully customizable. Some of the sites give supported premium and free premium as I would call them. I think is sure and for a fact that one should always try to buy from the creator and get full support from the creator himself. Which will also support and will be mutually beneficial.
But yet again with the price factor, we have GPL (General Public License).
Supported Premium
Free Premium, Before buying a WordPress theme
I know you would say of these provide cracked or null versions not good. But you know when you buy a premium theme from the creator himself which has a premium plugin they never give you a key for that. They just say we have bought a bulk license for the company and it ok to use. Which makes me wonder. Now I know security is a concern that is why use these null themes just to know how your site behaves. Keep doing regular backups and if you like the theme buy an original from the creator.
In my early days of blogging, I didn't have a bag full of cash that I could have afforded a premium theme. So I bought a null one and used it for some time and just when I had the money and was sure about the theme I bought It from the creator.
Now one is stopping you from doing the same. You might have some money with you. But there are a ton of students/bloggers all over the world who don't have money and a premium theme might be their pocket money for the next 2 or 3 months.
Compatibility & Style
Some authors sometimes forget to update their theme which can be a major setback on the security front. Look for the most updated theme that satisfies your "GOAL". Look very carefully at the demos which most of the themes provide the spacing with the length, blog placement, picture display, and design as much detail as possible check via cell phone as well if not shown in the demo.
You also want to ask the creator questions in mind if you have any. If possible ask for the document or the resource that shows how to install and customize the theme. You will get a rough idea of how it works and if it is possible for you to work on it.
Theme Add-ons
Most of the themes require WordPress plugins to work properly, Check which are these plugins before buying if there is any premium plugin this will only be updated once the whole theme is updated and gets no key for registry or updates.
WordPress
WordPress is a powerful web application that has the capability to cater to any web domain it is an open-source application and is being served on more than a million websites around the world. Millions of websites are customized and built on the WordPress platform on a daily basis. Lastly, keep your system safe and updated.
Must Read: I am a Web Domain Freak!!!
Let me know what you think of this post and share your experience of buying a WordPress theme.