There are these Keyword Research Tools that I use, which exactly tell me what I should write about and what I should I expect from these keywords.
If you are also looking for something like this then you are at the right place, in this article I am going to tell you the free tools that I use. With the growing internet industry, there are overwhelming applications in the market. There are more than a dozen sites that offer you this help but for a price.
I love free applications and why should I pay when I can find this free from those sites which gain the most from these keywords. See all this data is already present on the web, one just needs to know how to process this data. Companies that offer this for a price are also doing the same thing, they just put data in a presentable dashboard.
I am not saying that they are bad but if I don't have the money and I have just started my site or blog, then it becomes difficult on the pocket. Most of the paid versions are subscription-based and you have to pay every month or yearly.
Here is what I understand:
Firstly
Keywords are for search engine optimization in short for companies like Google, Bing, and Yahoo. If I remove these companies from the equation then there will be no place to rank and forget about keywords. So, who has the best data about the keywords? of course these search engines themselves.
Secondly
According to Statista the search engine market is dominated by Google at 83% if you can just concentrate on one engine that is Google rest will follow on its own.
Thirdly
Data for these keywords are provided by these companies for free then why do you want to buy a tool for these things? Google's algorithm is not known by anyone, and they keep updating them. So, stop spending time on these tools and concentrate more on the content.
Fourthly
"Content is King" I can beautify this post with pictures and videos and graphs, it will look good but will not solve the problem. One needs to write and not cheat the system. If your content is good, users will stick and always look long-term.
Based on the above you must have guessed what tool I use.
Free Keyword Research Tools
Before I tell you about the free keyword research tools and how to use them for your benefit you have to identify the topic you want to write about. The topic of your article can be anything from your blog niche. I am going to take my niche and the above topic for this example.
I want to write about tools for keyword research that we can use for free.
If I want to rank in Google search then Why not use free tools from Google itself? Google Trends is a tool that will help you in knowing the trend of the keyword that you want to write about.
I have two key phrases that are beneficial for me
1.) Free Keyword Research Tool
2.) Keyword Research Tool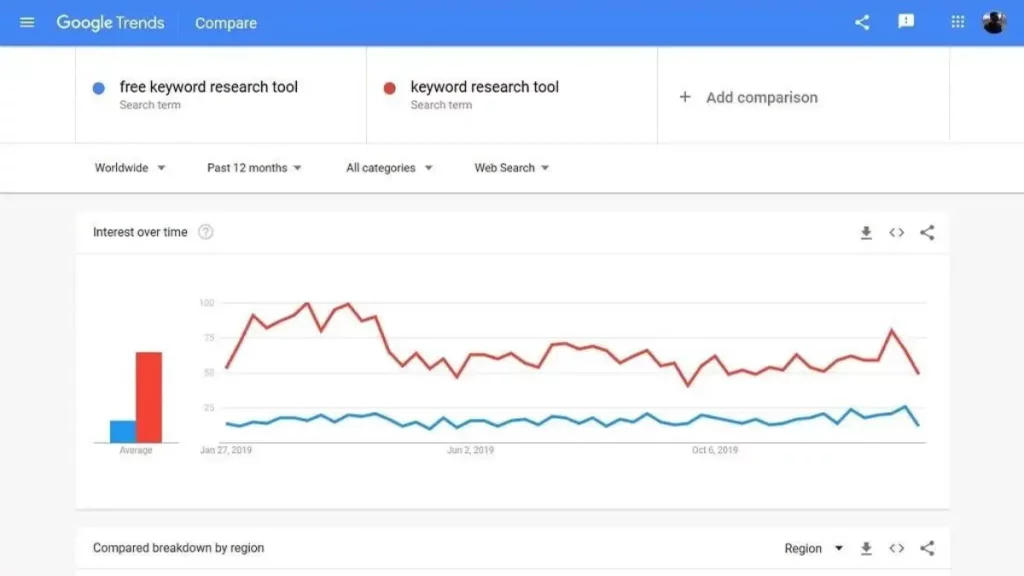 If we check the trends of both phrases for a period of the past 12 months, we find that there are steady web searches happening. The second key phrase is much more popular compared to adding free as a word.
This tool will give you the data that you need at the very beginning of starting an article. Now, whatever topic, you have in your mind just check if there are any searches for that. If it gives you no data or shows you fewer searches on the keyword then change the keyword of the topic.
You don't need to pay anyone for using Google Trends it is free to use.
Here is another free tool from Google itself this tool you will need an account on Google Ads. You don't have to pay or run ads to use this. Google Keyword Planner is an excellent tool to know the Average Monthly Searches that happen on a keyword.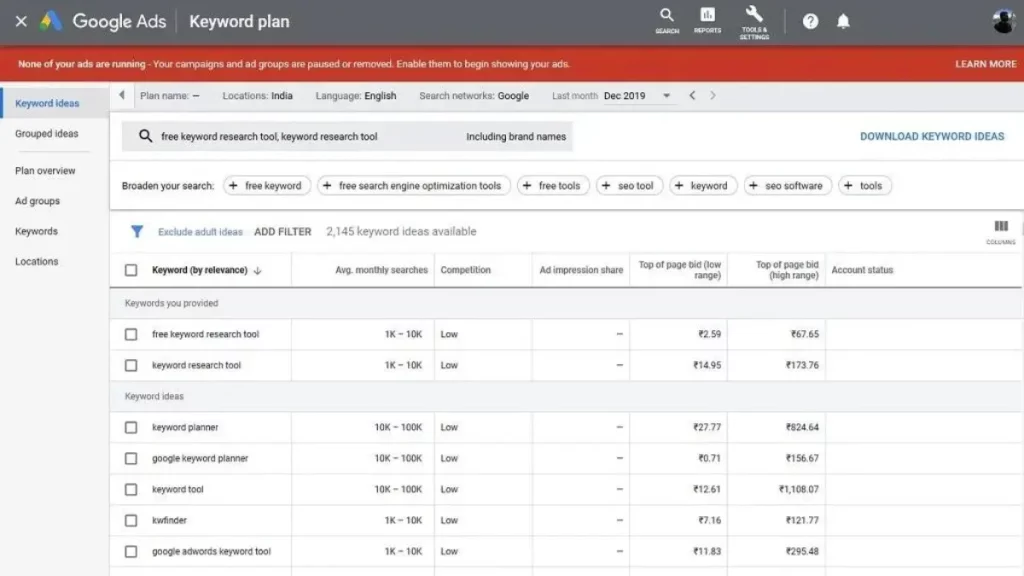 It will also tell you the competition level for placing an ad this implies that if the price is high then, there are keyword that is high on competition then it's very competitive. But you don't need to worry about that it is for those who what to place ads on the keyword.
If you will look below your keyword or phrase, Google will give you Keyword Ideas that you can use as your keyword. For two phrases, it is giving me ideas of Keyword Planner, Keyword Tool, Keyword Planner Tool, Free Keyword Tool, Best Free Keyword Research Tool and many more.
I can now go ahead with the above two or change them as per the ideas. My both terms the average searches are the same 1k-10k monthly. The only difference is in the bid section which shows that the keyword research tool is high priced which means more competition.
#3. Competition
The last free tool is to go check on the competition and read their blog post. Yes before I start writing I always look at the top few sites on that keyword, firstly I gain more knowledge and secondly, I get to know what is missing and what I need to focus on.
There are a ton of sites that are ranking for the above keyword and there is no chance my post will get ranked. But I want to tell a secret that people miss and I have done just that, keyword research is for search engines and that is the place you will get this data.
Conclusion on Free Keyword Research Tools
There are endless keyword tools that you can use to know the right phrase or word for your topic. But if you just use only Google Trends, and Google Keyword Planner you can find that perfect term to rank on Google.
You don't need to pay anyone to find and do SEO on your site you can do it yourself and for free. Also, remember that just finding a good keyword will not rank you on Google the content matters a lot. Your users are trying to find a solution you have to provide them with the answers.
FAQ on Free Keyword Research Tools
What are Keywords?
Keywords are words or phrases that will tell the reader or the bots about the type of content present in the article.
Let us assume that you are writing about "Stadium" your heading of the article is "Children Prefer Football and Basketball at the Stadium". Now a reader who is a human will understand that the article is about what children like to play at the stadium.
But when a search bot crawls the heading it will get 5 keywords Football, Children, Basketball, Prefer and stadium. Now for a bot that becomes a bit confusing so the bot starts the crawl on the content. Every keyword that you have emphasized more in the article will get the bot's preference.
Why are Keywords important?
Keywords are important in terms of search engine optimization, if you don't want to get organic traffic from Google, Yahoo!, Bing and Baidu you don't need keywords. You can write anything and everything you want.
But when you want to get organic traffic for a specific word or term you should know about the keywords. To make the search bot understand the content of the article you need keywords.
Are Keywords easy to identify and Implement?
Yes, Keywords are very easy to identify and implement. You can find all the keywords that you want to use and also find out what keyword an article is ranking.
You don't even need a developer to implement a keyword in your article you can do it yourself at home or office.
Will Keywords get my article ranked one in Google search?
No, there are other ranking factors as well that you have to consider to rank one on Google. Keywords will only help search bots to identify the content of your article and include your site in the search engine database for those keywords.
I hope this article would help you with your keyword research. All the above three tools are free and you should make the most of them. If you are using any other free tool you can let me know in the comment section below. If you are having any difficulties then you can contact me anytime.