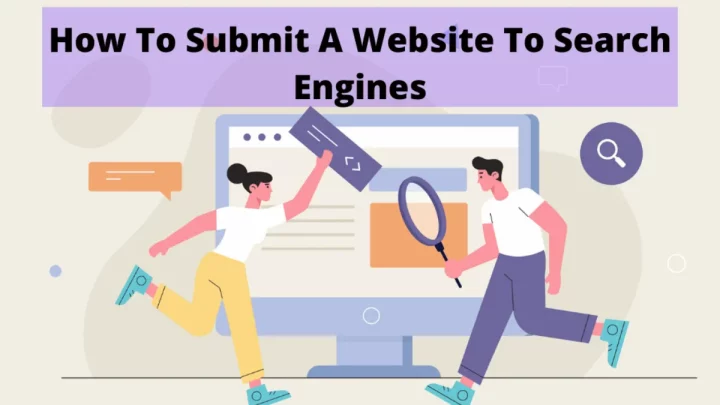 Do you want to get organic traffic from search engines like Google, Bing, Baidu, and Yandex? Then you have to submit a website to search engines.
Over 5.6 billion searches happen just on Google each day, that makes it 2 trillion searches per year. Not just at Google searches also happen on other search engines every day. If we look at the global search engine market, we have Google at the top then we have Bing, Baidu, Yandex, and other search engines.
For this, you have to first understand how does search engine works and there is a very simple video by Matt Cutts.
Now that you know how a search engine works, don't wait for the search spider to come to you and that will only happen if some other site links on to you. Even if one site does what are the chances that the spider will index the whole site. Maybe it will just index that single page which is getting the link.
You don't want to miss out on the billions of searches and organic traffic. In this article, I will show you how to get on the webmaster and share your site's links for indexing.
If you are starting a new site or blog then a good way to check if your site is indexed on a search engine by typing;
"site:www.yoursite.com"
If your site is indexed and crawled by a spider it will show the results only for the typed domain name. Second, the option is to go to your cPanel and look for Awstats, then click on the link Robots/Spiders visitors. It will show you all the spiders and bots that have crawled your site with last visit date and time.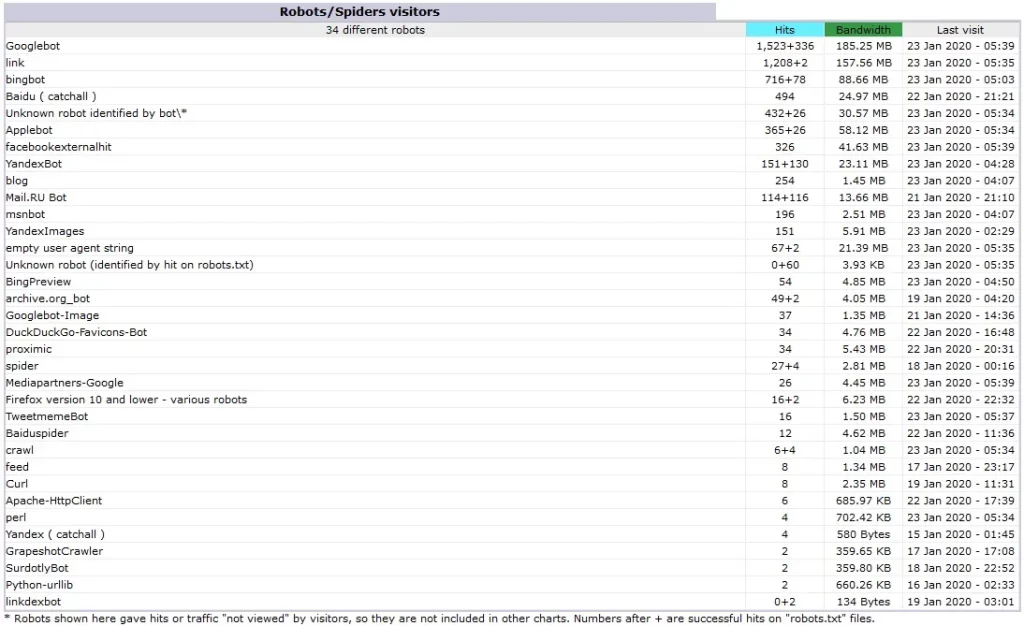 ---
How to Submit A Website To Search Engines
---
Check For Your Site Map
A site map is like an index for your complete website. We have to submit them to the search engines so the at the search spiders would know which are your links.
If you are new and just started a site for the first time, you would not know where to find it, try this in the URL
"https://yourdomain.com/sitemap.xml"

If you land on a page, you hit the jackpot, if you get a 404 error then probably you don't have a sitemap or you have a different URL. You should access your hosting panel then locate a file called robots.txt. if this file exists then open the file and it should have all the links if not then you don't have a site map.
Don't worry you can build one yourself. Here is a link on how to build a site map, this is mostly if you have a very small site but if you are working with a big site will a lot of pages and posts then you should you use AI to build it for you.
xml-sitemaps, xmlsitemapgenerator, and web-site-map are good to go tools that would crawl your site and build a map for you. Which you now have to place in your public_html location.
If you are using WordPress then you can use their Jetpack or Yoast SEO or Google XML Sitemaps plugin to do it for you.
For Yoast SEO the link for site map is
"https://www.yourdomain.com/sitemap_index.xml"
For Jetpack and Google XML Sitemap, the link is
"https://www.yourdomain.com/sitemap.xml"
Now that you have a sitemap in place you are all set to get on the webmasters and submit a website to Search Engines
---
Google Search Console
The webmaster for Google is known as Google Search Console, you have register or use your existing Google id for starting. This is a free tool and you don't have to pay anything for this. Search Console is a very powerful tool it will not just index your site it will also give a lot of insight about your site.
It gives all the data you need to optimize your site like your top search terms, linking sites, countries you are getting the traffic from and will also give you error on your site. There is a lot you can do with this tool which we will discuss in some other post.
First, you have to add your property, that means your domain name now Google has now started a new type where you can register all your subdomains in one go. The other is for a single site like mine I don't have any subdomains to this site.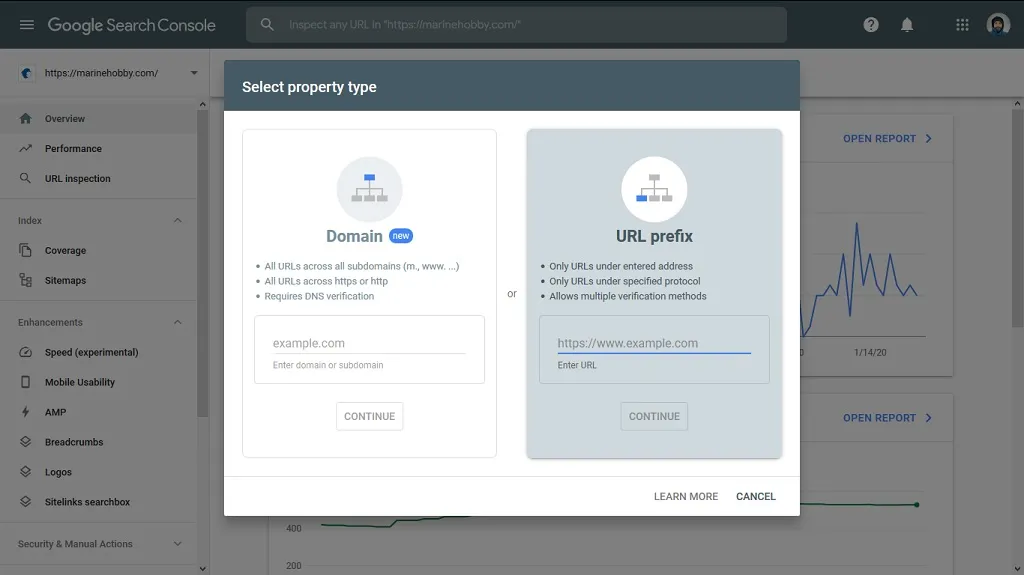 Make sure you add the https and http variations, if not using a forcefully https.
Once you enter the domain name then search console will want to verify if the said site is actually yours. For this, there are 5 ways you can help in verifying choose which every is the easiest for you. I find the easiest is via Google Analytics but if that is not in the Header function then the HTML file will work fine. If you are using Google Domain and the account is the same then Google will automatically do this verification.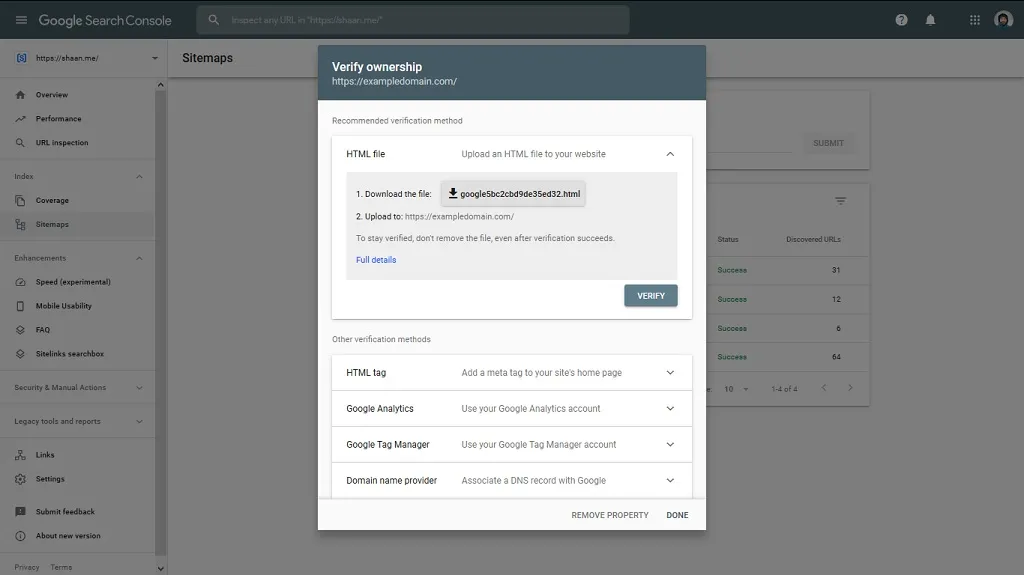 Once your site is verified, now you have to go on Sitemap and submit your website's sitemap.xml, you might just have one or more depends on how you have created the map.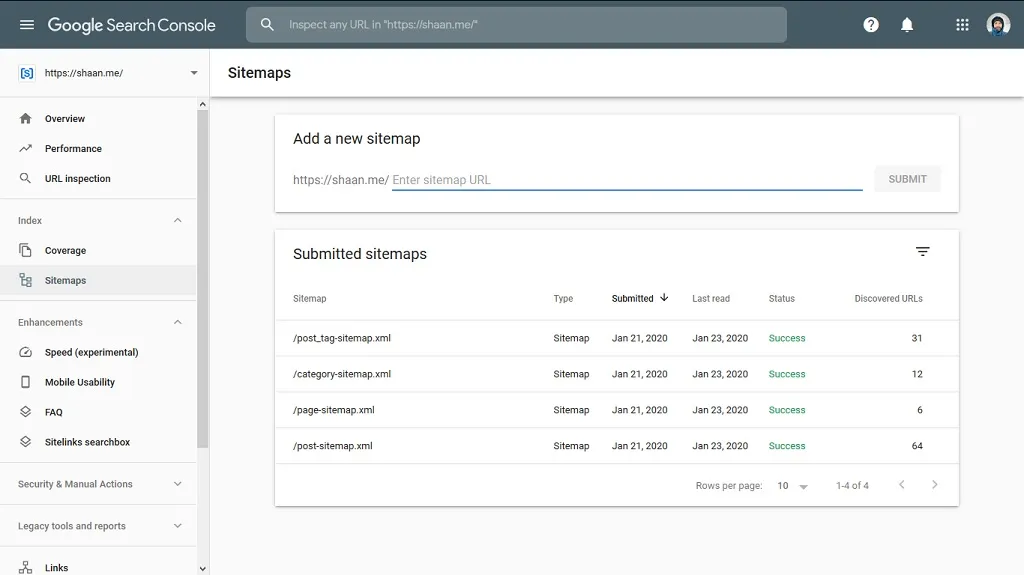 In a few days, search bot will crawl and index your site on Google.
---
Bing Webmaster
Bing is Microsoft's search engine and Yahoo! searches are also powered by Bing. So, getting on Bing is like get your site on two search engines.
For Bing, you have to register and it is free to use. Once you have created an account on Bing Webmaster, the next step is to add a site and add a sitemap if you just have one go ahead. If you have more then you can add them later after you have Verify ownership.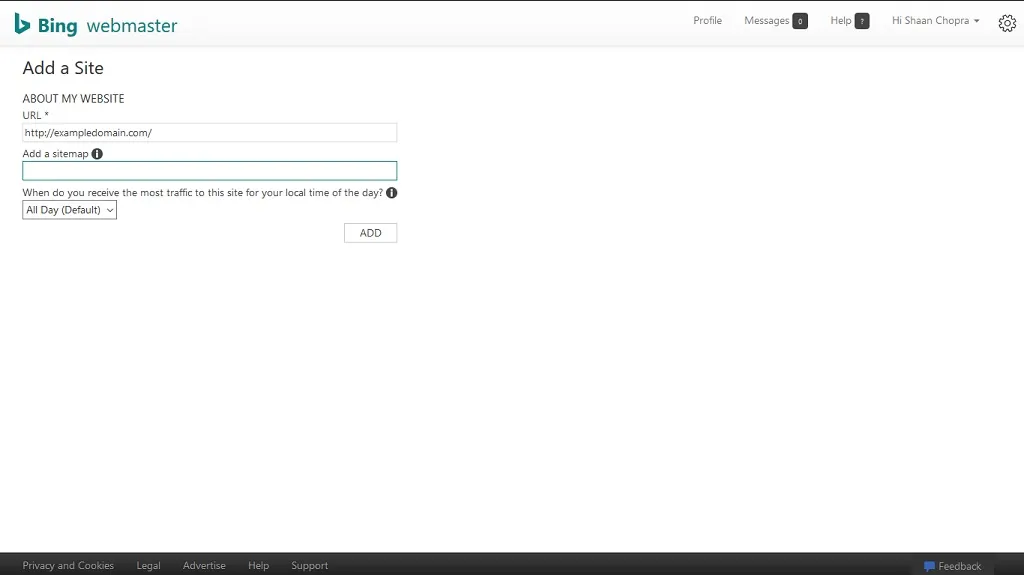 Bing has a total of 3 ways how you can verify your ownership of the domain name. They also have now started a beta method where you can use Google Search Console data for verification. I personally have never used the other search console to verify ownership. I find placing the HTML file the easiest via cPanel.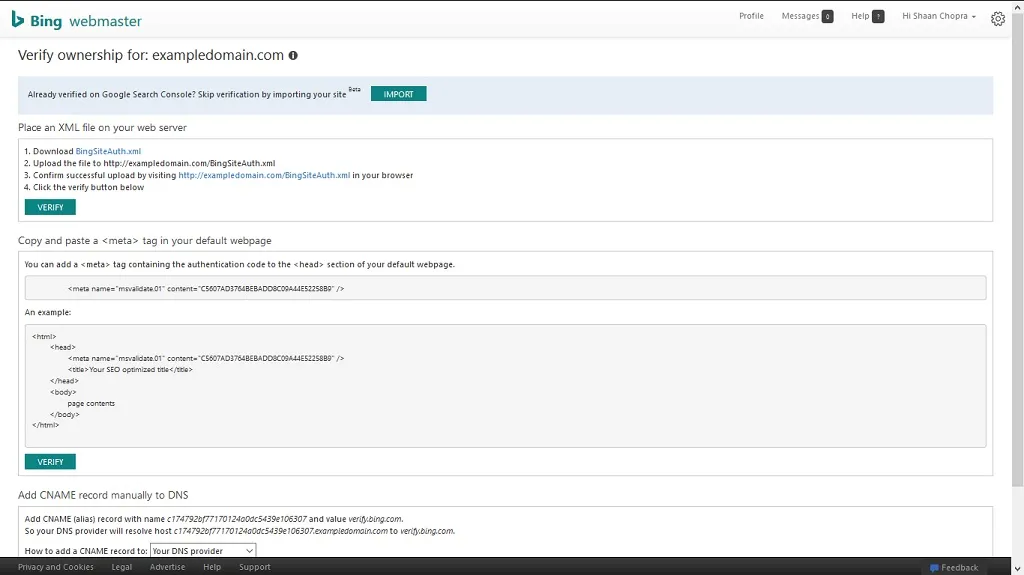 Click verify once you have added the file or after placing the code in your Head Function. Bing webmaster will now verify the ownership. Once your site is confirmed on Bing move to the Configure My Site.
You will find Sitemap inside that place all the sitemaps of your website. You might just have one sitemap to submit or more this depends on how you have created the map. I am using Yoast so the plugin creates more than one link.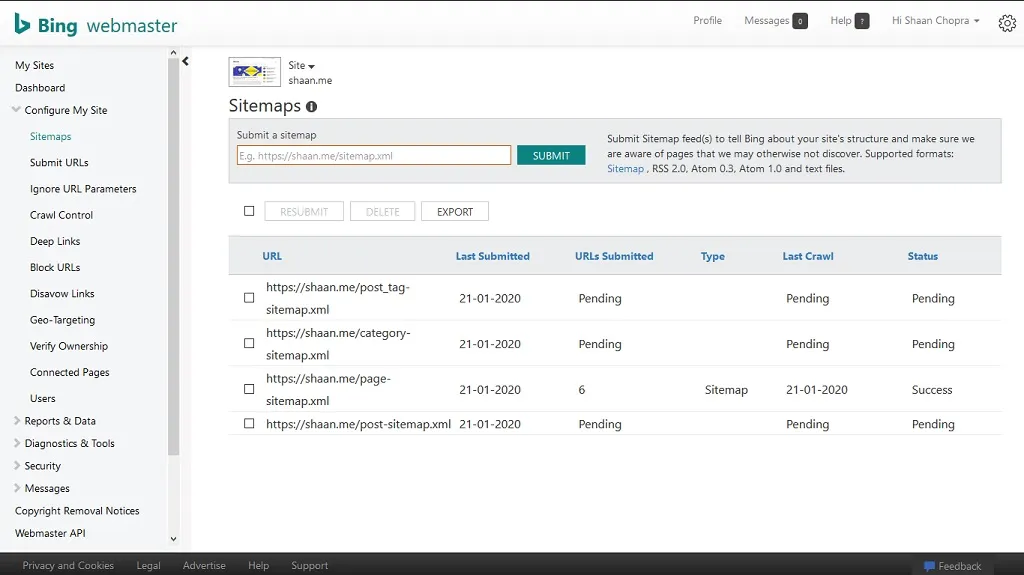 As soon as you submit the bot would know where to crawl. You can come back and check the status of the crawls. You will get the number of URLs submitted and the last date of the crawl on this page.
Just like Google search console, Bing is also having the functions which will help you in your SEO.
Bing spider bot will now start generating data and Indexing your site.
---
Yandex Webmaster
Yandex is a Russian search engine it has two sites where you can register. One is the Russian language Yandex.ru and the other is the English version Yandex.com. Yandex is very popular in Russian and leads in market share over Google.
This search engine has released a "Vega" update where they have made a significant amount of changes in the search algorithm.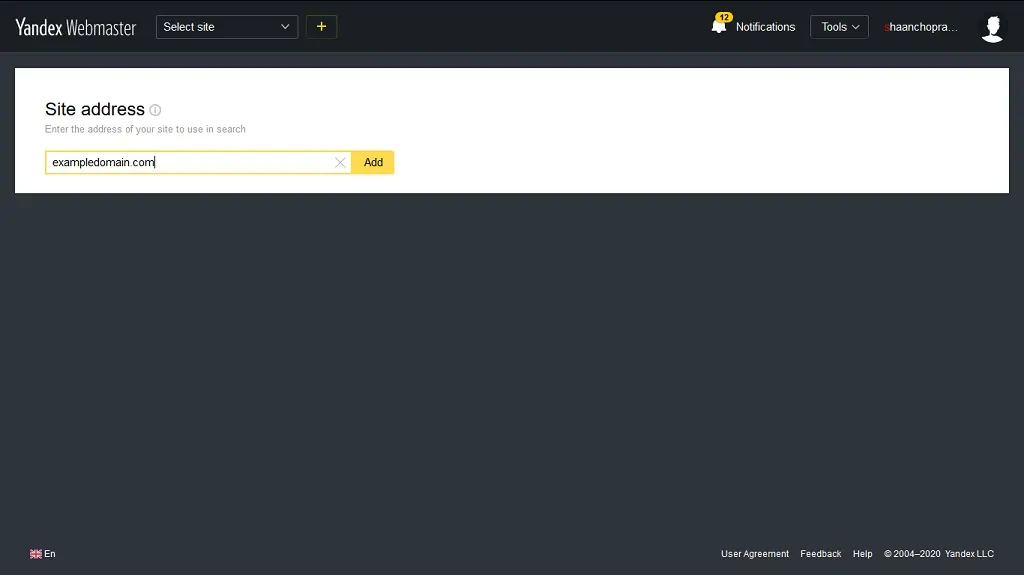 Yandex is also free and you have to register for an account. Once you have registered yourself it is time to add your site and verify the ownership. In the Yandex webmaster, there are 4 ways how you can verify for domain name ownership. I find placing the HTML file in my public_html folder on my cPanel. You can also place the code in your Header function. But if you get an update for your theme or platform these codes would go away.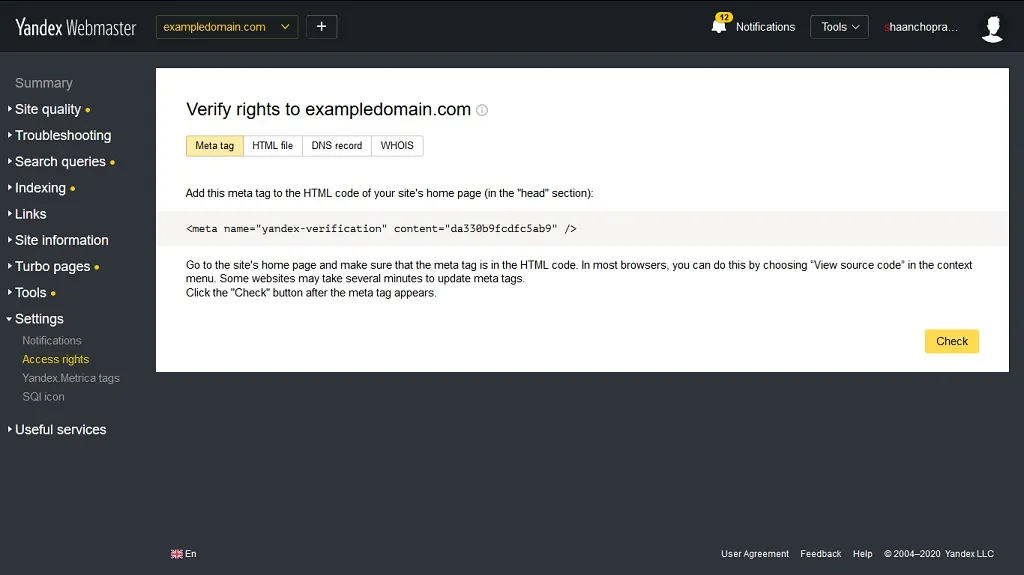 Click check and verify your domain.
Once your domain name is confirmed more to Indexing and inside move to the sitemap file. Add all your links here on this page.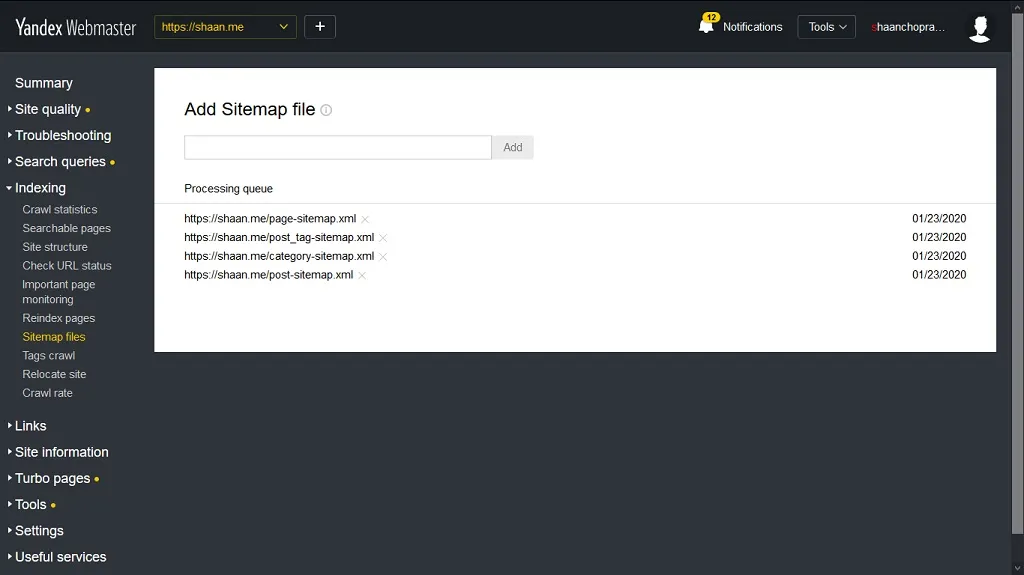 Just in a few days, the Yandex search bot will start indexing your site. Yandex also has functions that are available with other search consoles. Take your time to look at the different functions that these webmasters provide you. They would eventually help you with your SEO.
There you have your site is now ready to be indexed on the Yandex search engine.
---
Baidu Search Engine
Out of all the search engines, Baidu is the toughest as it is a China-based engine, I have not properly got on Baidu, What I do is just put my site link in the tab and hit enter.
Baidu requires a Local number for you to register, that is not possible for us residing outside. But it was also allowing outside numbers for some time. Now they are not allowing for some reason. But in the future, if they start again then here is the link for overseas registration.
You can also use freelancers based in China to help you get the Baidu search console. Mostly on Fiverr or Freelancers.
If you have found a better way to submit your site to Baidu, let me know in the comment section.
---
Free Submission Sites
There are some free submission sites such as freewebsubmission.com, submitexpress.com or entireweb.com. These are low-quality submissions and later you would get backlinks from sites such as www.pingmyurl.com, www.sitevaluefox.com, or www.secretsearchenginelabs.com.
Some say that they would be negative on the SEO front. But you should know that anyone can submit a site on them. There is no verification of domain owner on them any xyz person can do it. Just a site address and email id are required for this. Email can be from any free provider.
The question is are they real, do they actually do what they say or it is just a stunt to get details. Anyhow it really does not matter we are not paying any money for this.
---
Conclusion on How To Submit A Website To Search Engines
I hope with this article you would submit a website on search engines. It is a simple and straight forward method to register and submit site maps. When I first started my first site was HTML based and I had no clue about the webmasters.
You should always keep checking the search consols for errors and rectify them in time. There is a lot of data that comes straight from there webmasters. If you want you can use Google's Data Studio to make it more presentable.
Don't wait for the spiders to come on your site, just get them to crawl with webmasters.
---
FAQ on Submit A Website To Search Engines
Do I Have To Pay to for Google, Bing & Yandex Webmasters?
No, these tools are free to use and you don't have to pay anything for search console and webmasters. You just need a sitemap for them to index your site.
Will My Site Rank on Search Engines by Submitting My Links?
No, by submitting your links you are just asking the search engines to index your site. Google alone uses over 200 signals for ranking a page.
How Much Time Will It Take to Index My Site?
It takes about 2 to 4 days when you will start seeing your site on the search engines. This may vary and you have to keep looking at your webmaster accounts and track your site.
Are There Any Paid Search Engines?
Yes, there are but they are for a different reason altogether. All the public search engines are free to use. Google, Bing, Yahoo!, Yandex are the topmost search engines that people use.
It Has Been More Than a Week & My Site is Not Show in Searches?
Firstly, check by "site:yourdomain.com" if it is not showing check search console/webmaster for errors. If all is good check your robot.txt file fr errors. Now there is an option of URL Inspection in Google search console use it and rectify the errors if any. You should also read the Guidelines for Google, Bing & Yandex.