Do you want to increase traffic on your blog? then you should know how to promote your blog? It is very important that you tell everyone that you have a blog.
If you keep writing good content, keep doing hard work and tell anyone then it is like you have made a top starrer hit movie but no one knows where to see it or if it even exists. Marketing your blog is a crucial step in blogging.
The first blog that I started had no traffic and when I started promoting the blog, I saw a surge in traffic. Networking will leave a trail of your blog and in time that trail will give authority and traffic. I know you might be thinking of marketing my blog who has that kind of money. You would be surprised to know that you can market your blogs with no money.
In this article, I am going to tell you some cheap and free ways to promote your blog. You don't need an SEO expert; the Internet is a free resource. What an SEO expert would do you can do the same. He has the same resource that you have, they why spend additional extra money.
Before we begin in the topic you should know that promote your blog when you have a decent amount of content on your site. Your aim should not be a one-time spike in traffic you should aim at getting the same person back your blog.
How To Promote Your Blog Free & Paid?
Whatever I am telling you in this post some of them might not work for you like sending a newsletter or reply to comments. If you have a new blog then you will not have a list, people will not comment on the post. So, you should do as much as you can to promote your blog.
It is not easy to promote your blog in one day but you have to start as soon as possible. The more promotion you do the more visits you will have on your blog. Once you start promoting your blog eventually you will also generate backlinks.
So, without wasting any time lets dig in the topic.
Create Good Content
Ask anyone why do the visit a particular blog you will get the answer about the content. Always back your blog post with data and facts. If you have good content then you will see that people are visiting your blog often.
Content is the king, always will be. When you are writing a post keep it engaging, for that just keep a note of the following:
Keep your URL short
Keep your Title Catchy and Compelling
The first Paragraph Interesting
Keep your paragraph shot with simple to read sentences
Back your post with Data and Facts
Use Good Appropriate Images
Give a list of Content
Linking to other sites
Linking to your own posts
Write at least 1500 to 2000 words
Break your post with heading tags
Write a conclusion
Write frequently asked questions
Update your post regularly
Check your Grammar and spelling mistakes
If you keep doing this you will be able to generate good content. Blog sites that have excellent content are promoted on their own. Still, you have to spread a word or two that your blog exists under this domain name.
Promote your Blog on Social Media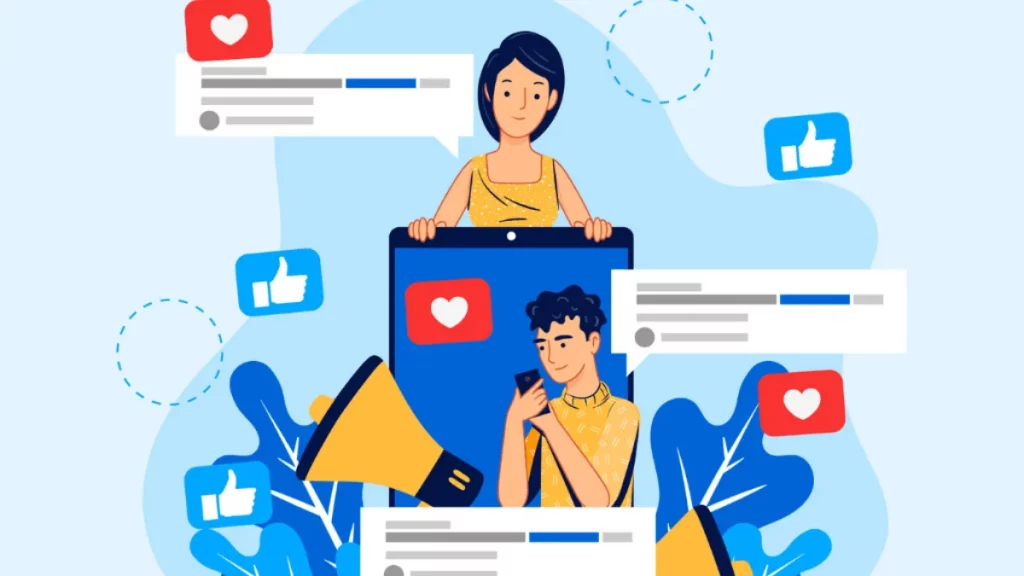 Share your blog with your friends and family on social media sites. These social connections are the first wave of visitors you will get on your site. This wave will also bring suggestions on how you can improve your blog. Listen to each and every one of them because you never know when you strike gold.
Facebook, Instagram, Twitter, WhatsApp, Linkedin, Myspace are all social channels. One of the best places you can share and promote your blog.
Treat these social networks as good as search engines but the only difference is you have to share it again and again. I have created a page on Facebook and linked my WordPress blog to auto-post on the page, Twitter, and Tumblr, you can link to Linkedin as well I have not because this blog is still on the starting stage.
Ask your friends and family to re-share your blog you know the cheapest and the best way of marketing is word of mouth. The more reshares you get on the social networks the more authority is added to your site.
For this, you don't have to spend any money, if you want to then you can always boost your blog with ads on the social networks as well.
When you are promoting your blog on the social networks answer all the questions and comments you get. This is a good starting point letting people know that you care. These days you will see most of the blogs share on the social network.
Promote and Answer Queries on Quora

If you would have noticed that on almost every first page of Google search there is Quora. Yes, people are asking questions and they are getting answers. This site is on the rise and will dominate in giving solutions.
You just have to start your account and start answering the queries in your niche. Letting people know that you have a blog that talks all about their query. You will be amazed to know that 90 percent of bloggers are on Quora and answering questions.
Once you start doing this on a regular basis you will see that a lot of people are visiting your site from the answers you have written.
Join Related Forums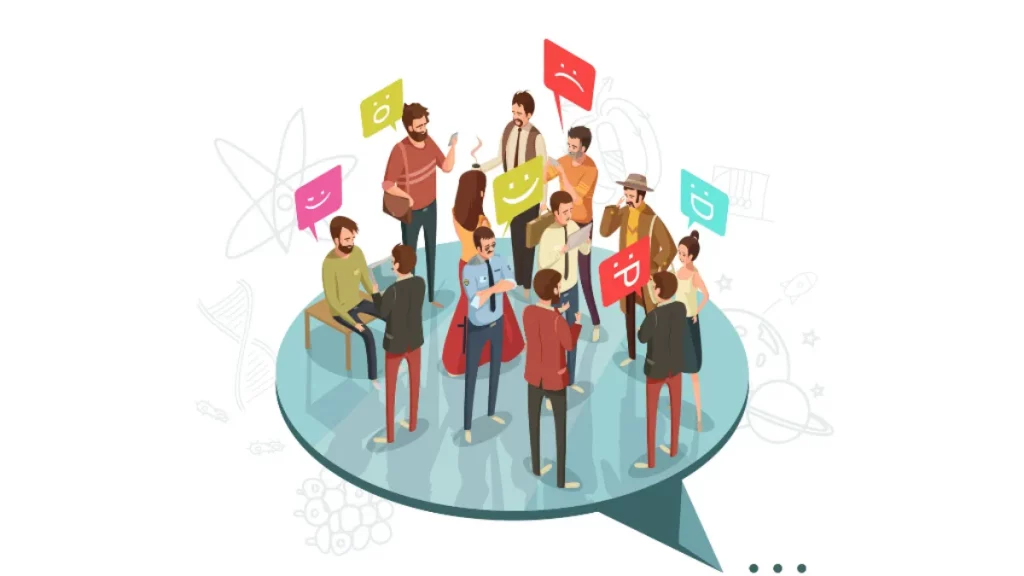 Forum is a good place to start your blog promotion. This forum that you are joining should be related to your niche.
If you are joining an Aquarium blog and promoting Bodybuilding blog that might not work.
A forum is a place where discussions take place on a similar topic and if your niche and the topic of the forum are the same you will see that people visit your blog. Forums also give great feedbacks that you should consider.
Posting links in forums also get you a vast amount of backlink which ultimately leads to building authority for your blog.
Most of the forums are free to join. Nothing is better than a place where you can find a similar thinker.
Join Other Closed Blog sites
When I say closed blog sites, I mean to say all those blogging sites that have their own user community. Medium, Tumblr, Livejournal, and Hubpages are some of the examples. When you start blogging on these sites and link to your site you achieve two things:
Traffic
Backlinks
These closed blog communities are a great place for you to promote your blog and yourself as a blogger. Share your blog on Mix, Bloglovin, Discuvver, and many more.
They are also free to use and you can generate a good amount of traffic to your blog. Sites like Medium have a huge amount of traffic and if you regularly post you will promote your blog and get yourself followed by many others.
Guest Post
When you are in the starting stage some of the blogs will not entertain you for guest posting. But a lot of them will and if there is a steady flow of traffic on the site then you will promote your blog and you will generate traffic to your site.
You have to contact the bloggers of sites and let them know that you have content and want to guest posts on their site.
Trust me blogs love to get content for free and with this, you also start building quality do-follow backlinks. Be nice and create good content for the guest post because if you do a bad job then you might not be able to write again on the site.
Just make sure that the blog you are selecting for guest posting is in the same category as your niche.
Google Ads
This is a paid way of promoting your blog. You have to start an account on Google Ads, add money and select the target keywords that you are looking for. There is a bit more when you are doing a paid promotion.

If you are just starting then look for those keywords that have low searches and the bid amount is less. If you are starting a blog on SEO then selecting a keyword like SEO where the bid price $200 would be heavy on your pocket.
Selection of keywords with low searches and low prices would let your Ad run a longer amount of time.
With this, you can geo-target your blog filtering all other factors. So that your ad is shown to your target market.
Send News Letters
If you are starting new then you would not have an email list. But with the time you can start building yours. You can start using MailChimp or HelloBar for this. Start building your email list from day one. This is also one of the big mistakes that a blogger does when starting.
It takes a lot of time to build a mailing list so one should start as early as possible.
If you send a newsletter in a very simple and crisp way, you will generate targeted traffic to your site. Because this list is created by your users on your blog. They would be very keen on knowing what is new on your blog.
See below how Neil Patel sends newsletter in simplest ways possible.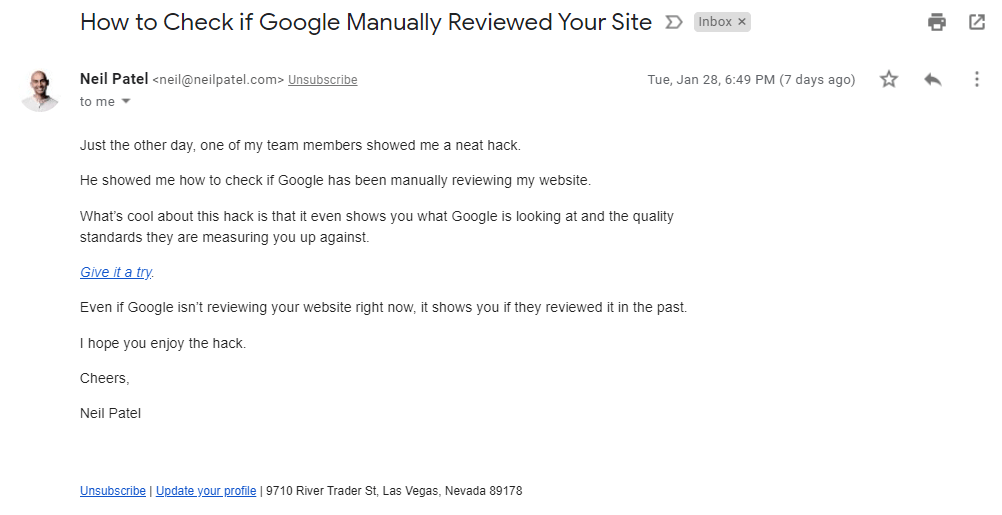 Before sending newsletters you should know that stuffing a lot of things in the mail would make your reader go away look at these mails they are simple and the person wants to click and visit the blog.
Reply to Comments
You are building a community around your blog; it is very important that you answer or reply to the comments that are posted on your blog. Be humble and respectful you really don't know who the next person is.
When you reply to comment even a simple thanks will show that you care and gain the trust of the commenter.
You will get a lot of comments some good and some bad don't worry you should be facing them with open arms. Comments are a way to know that people care about what you are writing. When you comment you also promote your blog stating that you are here always.
Feedback and Comments on Other Blogs
Leave your feedback and comments on other blogs is a good way to get noticed. You are leaving your site trail and you are getting referral traffic from the comments.
You know to get in the industry and let others know that a site exists comments are a great way. You start entering into other communities as well as start building our own.
Some blogs where CommentLuv is enabled, you would be able to create a do-follow backlink. If not, you still manage a backlink form just commenting on other blogs.
Conclusion on How To Promote Your Blog
The points that I have given above are simple and you just need to do them one by one. Some of the ways are a bit tough like guest posting because first you have to find a blog that requests a guest post but it does help.
Building a mail list is important and you should do it as soon as possible. It is very tough to get people to leave their mail id for subscriptions.
Most of the above are free excluding the Google Ads and you can also do paid promotions on social networks if you want to. Lastly, every blog that exists the main underline is the content so always concentrate on the quality of the content. Use good images and use infographics where ever you can.
Infographics are most shared on social networks. So do keep in mind while creating your content.
---
FAQ on How To Promote Your Blog
How can I promote my blog for free?
I have mentioned the ways you can promote your blog for free. You have to keep patience at all times. It does take a while when promoting a blog.
How do I get my blog noticed?
The above mentions steps will get your blog noticed. Also, the powerful way is to leave your valuable comments on other blogs.
How to Promote your Blog On Instagram?
Instagram is a photo-sharing network, the best way is to place a photo with hashtags and a link to your blog.
How do I Promote My Business Blog?
Business Blogs are no different than regular blogs, you should also do the same and share your blog on social networks, related forums and send newsletters.
Is it Expensive to Promote a Blog?
No, it is not expensive, most of the ways I have discussed in the above article are free. Only if you want to place ads on Google and social media then you have to a certain amount as per your requirement.