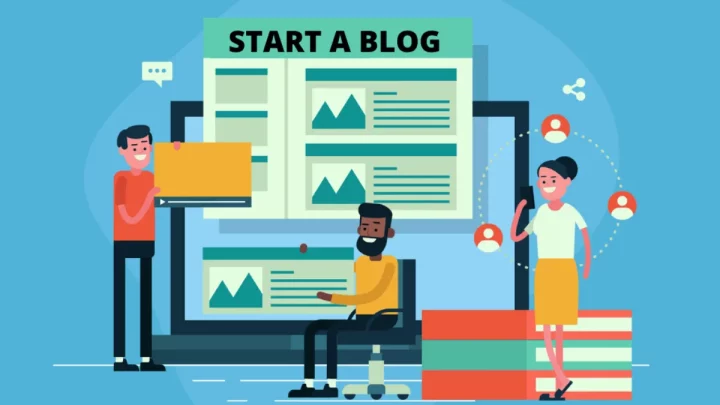 So, you want to start a blog in 2020?
That a good decision this your guide on how to start a blog this year. I must congratulate you on the decision you have made.
You can do a lot when it comes to blogging. Blogging has changed how I use to look up things online. This decision will change your life and your perception of the internet of things. The Internet is a multibillion-dollar industry and you are on your way to the orientation.
If you are thinking that you are too old or too late into starting a blog then trust me you are not. This is the right time for you to get started. This blog is going to guide you step to step in starting a blog from scratch to your first post on WordPress and Blogger.
Now before we start into the guide, I want to tell you something, don't start a blog because someone told you that you can make a lot of money. They are all lying, they are just tricking you to start and once you don't make money you fall into their bait to pay them for something that you could have done yourself.
Start a blog because you want to, communicate your ideas, express yourself, provide some useful information to the world, build a community. Money should be the last on your list and there are tons of ways to do that, just put your effort in creating epic content. Rest will fall into places own its own.
If you really want to make big, just try to make your blog into Brand.
Steps For How To Start A Blog
If we look at today's scenario internet penetration is at an all-time high, every school, home, businesses are internet dependent. 4.48 billion people access the internet that is almost 58 percent of the world population. This number is going to grow in the near future.
So, this is the right time to put your piece of words on the internet.
With over 600 million blogs world-wide I will not say that it is a cakewalk to rank higher. But if you follow this guide it will be much easier you to get up and running.
Making money from your blog is just one small part in blogging, there are other priceless benefits as well :
Expressing Yourself – Blog is a platform that will connect you to the world and your post will help you in expressing your ideas, thoughts, and visions.
Becoming Better Writer – Blogging will help you in becoming better in writer the more you write the more you want to outperform your last post.
Building Community – Once you start a blog with the time you will start building a community for yourself.
Sharing Knowledge – Knowledge is everything and you will help a lot of people with your blog posts.
I bet you already knew all of them before. So, let us, straight dive, into how to start a blog right away.
Decide On The Topic For Your Blog
This is very important before you start. You have to decide, what do you want to blog about. Is the blog like your personal space, or do you want to write about travel, or food or electronic games?
The maximum number of blogs fail because halfway through they find out they lack passion for the topic.
Take your time to find your strength, talk to your peers, family, friends discuss with them about the topics that you want to write about. Deciding on a wrong topic will be devastating and eventually, you will lose interest in blogging.
If you still can not decide on a topic then look for a niche. Niche is like a specialized topic for example technology blog will write about everything but a cell phone niche will only write about the phone. If we go further into the niche Nokia user blog will only write about Nokia's cell phone.
It is not necessary that you have to write about everything under the sun.
Niche blogs are more read than mainline blogs because they are able to bring out the smallest issues that mainline blogs cannot. It is way easier to rank in a niche than in the mainline blog.
If you are still not able to decide or have too many topics/niche then you can do the following :
#1. Go to Google Trends and look for an upward trend
It is very important for you to know the reality of the topic in which you want to start your blog. Google Trends is the perfect place for that. It will tell you if there are any searches on the topic or not and the trend of the topic. Let us take examples of "Body Building", "Sports Cars", "Internet Marketing" and "Marine Aquarium".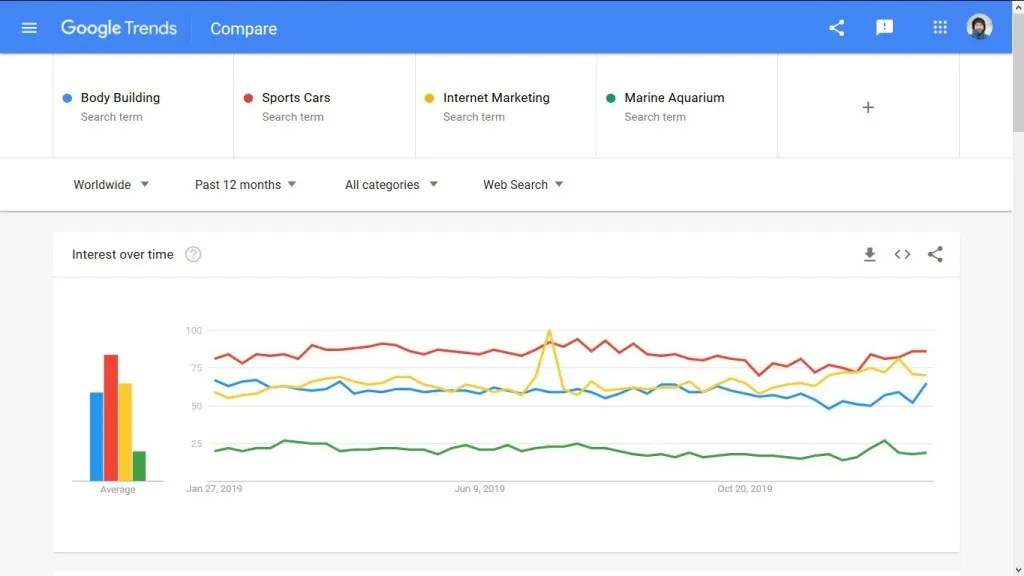 If we look at the graph Sports Cars is way ahead of all the other topics and Internet Marketing in the last leg is on the rise. Marine Aquarium is at the bottom so scrap out the last and any downtrend topics.
I am sure you got the idea of what you have to do while searching on your topic. These are just examples and they might not be exciting for you.
#2. Check for related key terms and volume of searches
Once you have decided on the topic head over to Google Keyword Planner and put your topic and see if there are more related keyword ideas. You have to check the average monthly searches and bid prices on them. This will give you a fair idea that there is more to write about.
The more keyword, searches, and bids will imply that people want to know more about the topic.
#3. Check if you can monetize your blog
There are a ton of ways you can monetize your blog. some of them are Getting Sponsorship, Running Ads, Starting an Online Course, Selling Digital Products or e-Books.
In the very beginning, no one will entertain you for this but you have to look at long term prospects. If you are writing about your daily day which is very personal then it will be difficult to monetize.
But if you are writing about Body Building or Internet Marketing you would eventually contact your local business and offer them to run Ads or ask for sponsorship.
#4. You are really passionate about the topic
Whatever topic or niche you decide, you should have a passion for it. It should not be the case that after a month you don't like to write about and the only reason you took the topic because someone told you, you saw high traffic or some other reason.
The topic that you have selected should come from within you and there should be no pressure what so ever.
#5. You can create epic and mind-blowing content on the topic
This is very important whatever topic you have, you should be able to create good content. As it is said content is the kind and this is what will decide about of traffic you are able to retain.
Here I am not talking about just one single post I am talking about the lifetime of the blog. You should think long term content making strategies.
#6. You can help people in solving their problem
If you can help other people in solving a problem then it will be beneficial for you. 90 percent of the people who search online are actually looking for a solution.
Your blog will gain authority if you keep solving problems. People tend to trust those sites that are helpful and return back for more.
I hope with the above you will be able to shortlist some of the topics and niches you want to write about.
Choose A Domain Name For Your Blog
Selecting a domain name is not very difficult. If you can accommodate your keyword in the domain that will be perfect. It just helps people in identifying what is the blog all about by just rearing the name.
There are some thumb rules that you should consider because selecting a difficult domain name will end up in pain.
Keep the name short & simple – Short and simple name is easy to remember and recall.
Try to use Keyword – If you can accommodate a keyword it will be good if not that works too.
Avoid hyphens and numbers – These are just a bit confusing try avoiding them.
Try for gTLD – General Top Level Domains are easy to remember and you can geo-target them when required. If you go for Country Code (ccTLD) Google will not let you geo-target them. Some of the ccTLD are considered as gTLD you can read more about them here.
We are humans and when we are searching for something, we usually presume that the domain will be .COM or .NET try if you can. But others would work just fine Google does not give any preference to TLDs.
Now some times you really want a domain name which is your real name like Neil Patel. But you are not able to because it with some else for that you can use a backorder or broker to source it for you.
If you are lucky you might just get one if not there are a ton of names that you can buy and start your blog. Keep your prospects long term while choosing a domain name because it might just block in blog expansion into other categories.
You can also follow this on How To Search For Domain Name.
Decide On The Hosting Provider
I am not associated with any hosting providers and it is very important that you choose a good hosting provider. There are so many of them that sometimes it becomes very difficult to choose.
This blog is on Namecheap currently and I have my other blogs on Godaddy, Bluehost, Hostinger, Hostblast and Amazon Web Services when I am migrating.
Now let me tell you something It important that your provider is giving you support, has a good server uptime, good server response time.
Your server location will also affect your ranking in search engines.
For the first 3 months, I would suggest you go for cheap shared hosting. Don't go all guns in and buy premium hosting. If in 3 months you lose your interest you should not lose the money as well. For this Hostinger or Hostblast are really good providers.
After 3 months if you see your traffic growing then I would suggest for premium good providers. If you are seeing a good large spike in your traffic you might want to shift from shared hosting to virtual private server.
Hosting is easy to buy and you only need it if you are planning for a blogging platform and want absolute control over the server and files. With your hosting you can create a professional email on your domain name, you can migrate between providers, change domain names and lot more.
If you think that will be too much then you don't it. WordPress, Blogger, Wix, Weebly and the rest are blogging platforms, you can link your domain on them. They charge you almost the same amount as a hosting provider.
Getting An SSL Certificate
Now that you have a domain name and hosting you need to get an SSL certificate for your domain. SSL is Secure Sockets Layer in simple terms your site will go from HTTP to HTTPS. Google also prefers HTTPS sites over HTTP. If you look closely in the URL you will see that most of the sites have a lock which can be block or green that means the site is secure and can be trusted.
Most of the hosting providers give a free SSL certificate with the hosting plan, but not all of them. You can either purchase an SSL or you can have a free certificate form Free SSL.
The only drawback of the free certificate is that you have to renew it every 3 months. If you forget then the latest browsers such as Chrome or Firefox will give security warnings to your users and that can affect your traffic and impact your SEO score.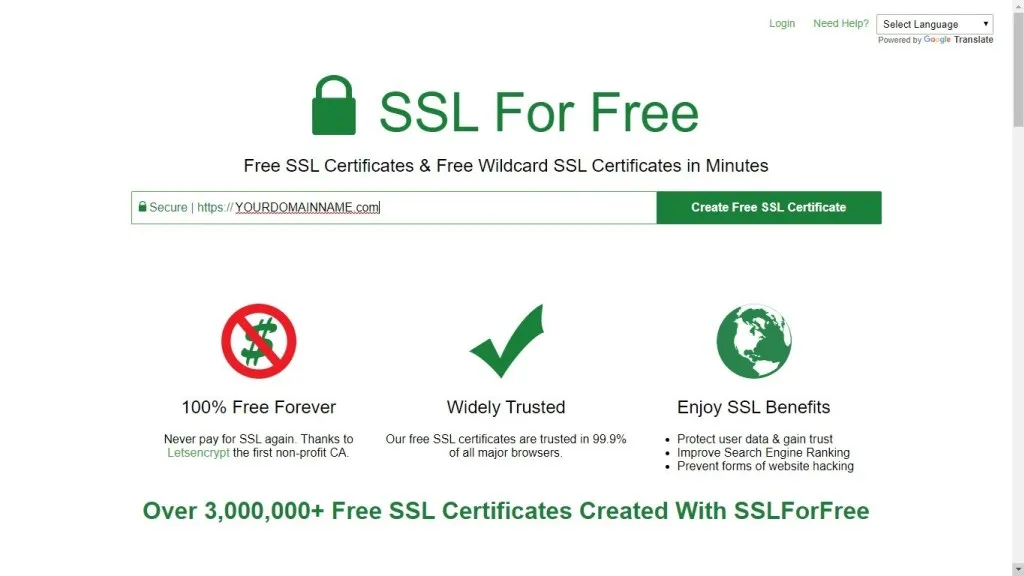 For free SSL just type your domain name and press create a free SSL certificate. The site will want to verify the ownership of the domain you can choose any method you want. I personally find manual verification the easiest. Where you just need to create two folders in your public_html. ".well-known" and inside "acme-challenge" and upload the two downloaded files in the acme folder.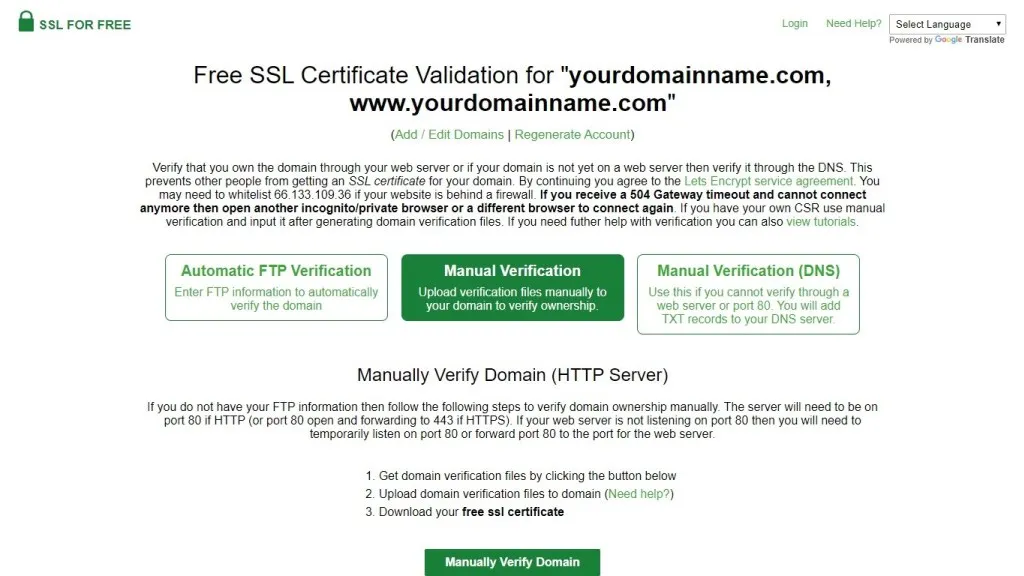 You can verify that the files are readable and when they click the download SSL certificate.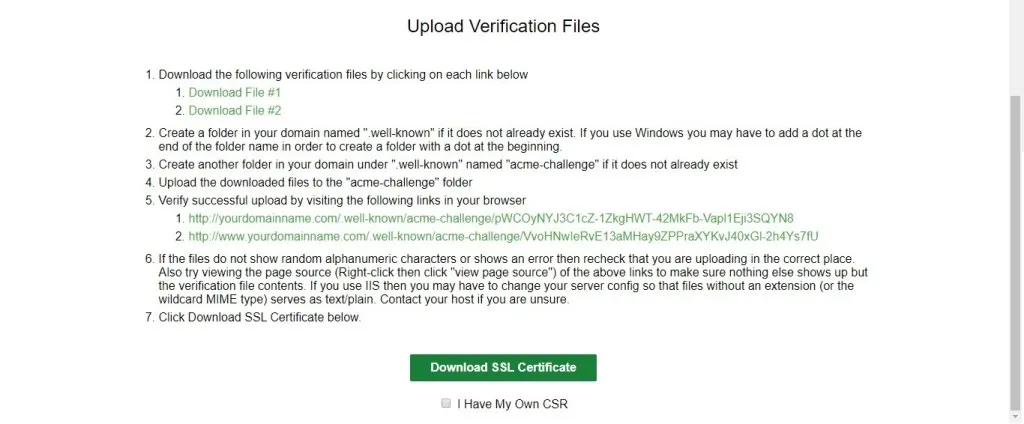 The site will automatically generate the Certificate: (CRT), Private Key (KEY) and Certificate Authority Bundle: (CABUNDLE).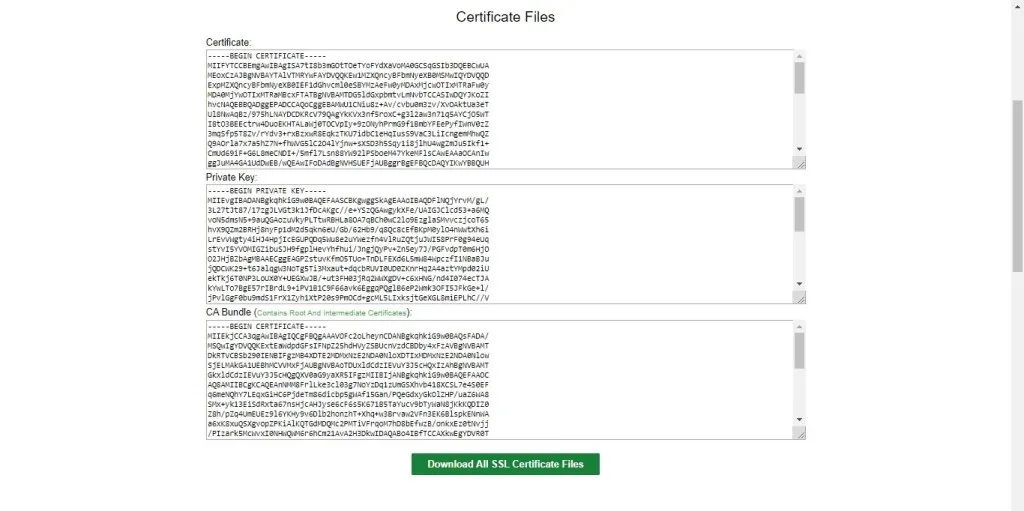 This you have to place in your cPanel SSL/TLS> Manage SSL sites>select the domain name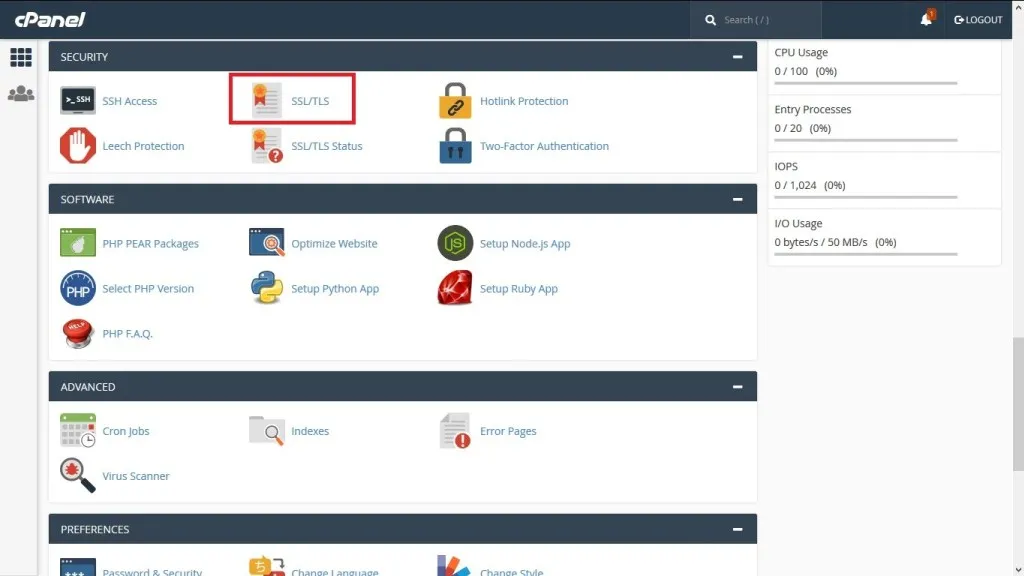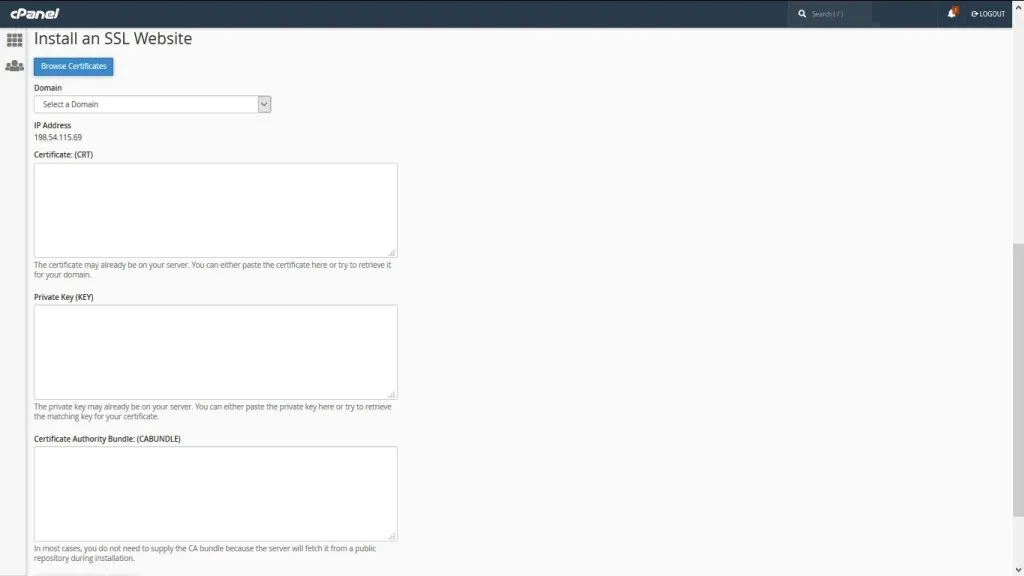 Copy the certificate and you are done with the SSL. After 3 months you have to redo the steps.
Setting Up WordPress or Blogger
I personally like WordPress but I also have used Blogger in my past. It is up to you to decide what you want. WordPress is a platform that is being used by millions of blogs and powers 35 percent of the site all over the world. Whereas Blogger is by Google which is in itself a huge name and brand.
If you are having a hosting plan with you WordPress, if not Blogger. WordPress also has the option of linking domain.
Bloggers all over the world can sit and debate over the topic of what one should use for blogging.
WordPress
If you have hosting plan the easiest way to install WordPress is a single click that comes within the hosting panel,
Inside cPanel you just need to locate Web Applications and click on WordPress select the https version of your domain as you have a free SSL installed on your domain.
Choose the directory if you want to have a blog installed on a subdirectory such as https://yourdomainname.com/blog.
Select a user name, password, and Admin email id rest if you are an advanced user you can decide on the database name and password. If you are doing it for the first time just press enter and the installer will take care of the rest on its own.
If you don't have an option of one-click install on your hosting panel. Then you have to visit this site WordPress.org. Download the latest version of WordPress, this you just have to do it once.
The package can be downloaded in .zip or .tar.gz, usually in hosting panels both the extensions can be extracted. Upload the downloaded WordPress into the public_html folder.
Extract all the files in the proper folder. If you want the blog on a subdirectory copy all the files into that directory if you want the main domain to have WordPress place all the files and folders in your public_html location.
Before you start the installation process you need to create a MySQL Database and user assigning all the rights to this user.
Lastly, just run the install script
"http://example.com/wp-admin/install.php"
if you are installing it on a Subdirectory
"http://example.com/blog/wp-admin/install.php"
Still have trouble installing WordPress the this will be very helpful for you.
Blogger
This is another big name on the blogging platforms. Blogger is owned by Google and if you can transfer your domain name or buy a domain name with Google Domains. You can start with the blogger right away.
If you have your domain with another domain registrar then you have to point the domain to the blogger blog and change the domain name. In Blogger you will get a subdomain of BlogSpot which you can custom your domain name.
Later when you have posted some content, have your pages, your privacy policy ready you can easily apply for Google Ads. This you can also get on WordPress.
The best part of Blogger is that you don't need a hosting plan and you can have a custom domain name attached absolutely free of charge. Whereas in WordPress.com where you use their server for hosting you have to pay $4 every month to use a custom domain name.
If you don't want to spend any money on hosting and still want to blog Blogger is the right choice.
Deciding On The Blog Design
Both platforms have amazing free and premium themes for you to choose and use. There are some drawbacks to a free theme that they are not updated too often. That could lead to a data breach or your blog can be a victim of hackers.
For this, I would suggest the use of premium themes you can either buy them from inside the platform or go on third party sites such as Theme Forest.
From this Theme Forest I have personally used the below themes;
Writing – Personal Blog
REHub – Price Comparison, Multi-Vendor Marketplace, Affiliate Marketing, Community Theme
Gridbase – A News and Blog WordPress Theme
Soledad – Multi-Concept Blog Magazine WordPress Theme
MagPlus – Blog, Magazine Elementor WordPress Theme
Jannah – Newspaper Magazine News BuddyPress AMP
Flip Mag – Viral WordPress News Magazine/Blog Theme
This blog is currently on a free theme called GeneratePress. Which you can get in the free theme section of WordPress.
With premium themes, you will get support from the creator and you will get updates to the latest version. You just have to make sure that whichever theme you choose it should be lightweight, should be responsive and give you support when required.
Installing Plugins, Analytics & Other Tools
Now that you have selected a theme it is time to add some important plugins and linking your blog to analytics and Google Search Console, Bing and Yandex.
Plugins will make your life easy and I also want to remind you that too many plugins will add additional code that can affect the performance of your blog. So, use only those plugins that you really want to and give you a required feature.
My recommendations are;
#1. Akismet Anti-Spam – To help you in protecting your blog from SPAM this plugin by Automattic which also owns WordPress. This plugin will keep all the spam comments for your review.
#2. Jetpack by WordPress.com – Another plugin by Automattic. This plugin will help you in knowing when your site went down, link your blog to a social network (we will discuss this in the next section), Improve on the Performance by optimize your images and serve your images and static files. Give you additional Widgets.
#3. Site Kit by Google – This plugin is from Google itself which will help you in linking your blog with analytics and search console give you the data in the WordPress dashboard itself.
#4. Yoast SEO – For your SEO work you can install this plugin. There is a premium version and a free version. It will guide you on your posts and keywords.
or
#5. RankMath SEO – This is a good plugin for a blog for SEO. Currently, the company is giving all the features in the free version and they don't have any premium version.
#6. UpdraftPlus – For keeping a backup of your blog this is a great plugin. You can link your Google Drive or DropBox for backups. If in future your breaks or is hacked you can bang on this plugin.
For advanced users' additional plugins
#7. Autoptimize – Helps in speeding your site. It will optimize your theme scripts.
#8. WP Super Cache – This a caching engine by Automattic. This will help in caching your site by generates static HTML files from your dynamic WordPress blog.
#9. MailChimp – For collecting emails from your users and creating community MailChimp is just perfect. Later you can use the email base for email marketing.
or
#10. HelloBar – HelloBar also collects emails from your users and this is by Internet Marketing Guru Neil Patel.
#11. Link your site to Bing and Yandex – Bing and Yandex are search engines just like Google. The best way to link is by placing your sitemap. I wrote this article on my personal site on how to submit a website to search engines.
Adding Social Media Auto Post
You know social media sites are a great way for getting that initial traffic to your site. You can link Facebook page, Twitter, Tumblr, and Linkedin to your blog. So, whenever you publish a post it will automatically publish a link to these social networks.
For this, I would recommend connecting Jetpack with your social accounts. Jetpack settings > Sharing > Connect your social accounts.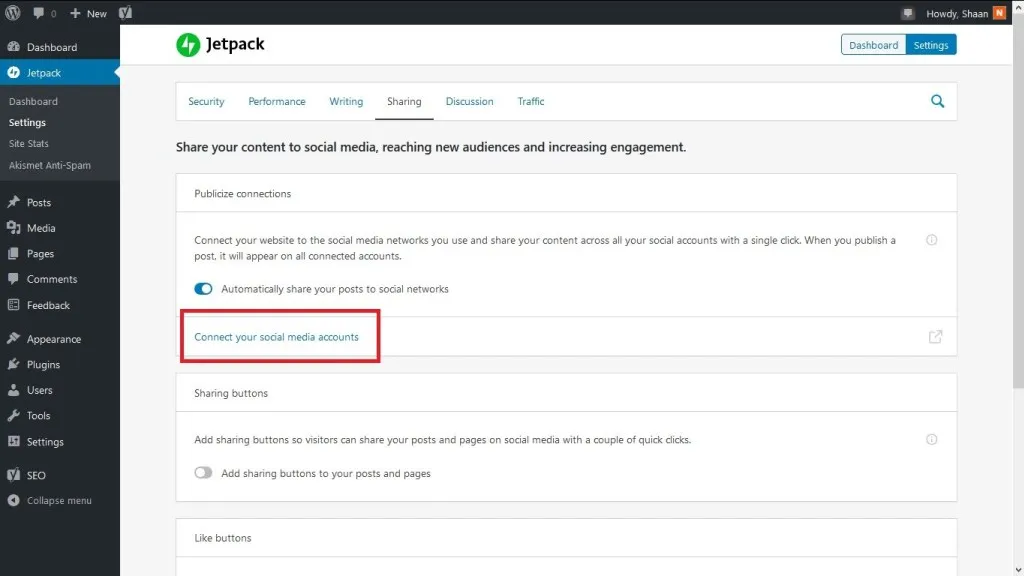 This will happen only once if you edit your post it will not re-post. Only the first-time post publishing goes to social networks. So, you don't have to worry about getting two posts when you edit. From the social sites, it is just a link that will redirect your friends or community to the content on your blog.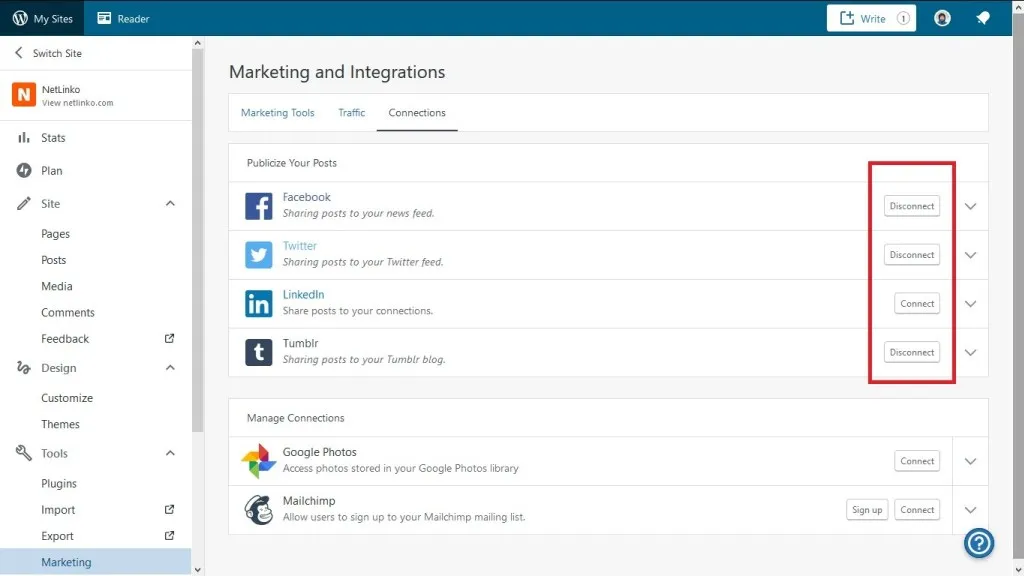 You can also choose what should go to which social network or you can just turn it off for certain posts from your dashboard. As soon as you hit publish WordPress will confirm letting you know what all will happen if you publish.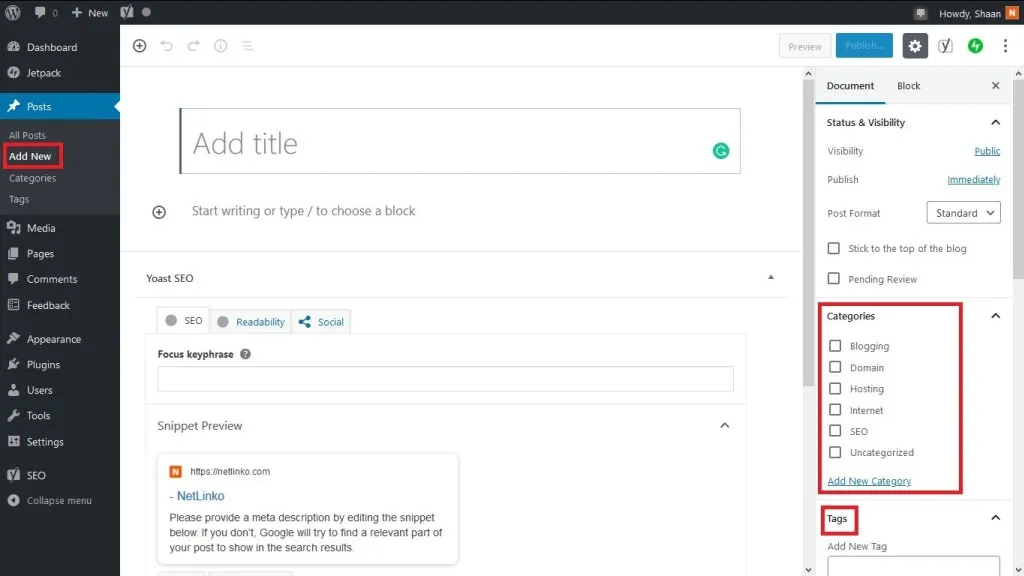 Whenever you are ready you hit the publish button and you will see the same post going to your social networks.
Adding Pages to You Blog
There are these pages that I find very important for a blog to have and you can create them by Dashboard > Pages > Add New.

Write the title this can be just one word or a phrase as you want. Write your content and once you are done press publish.
Contact Page: You want the user or your audience to contact you for this contact us page is a must. You can leave your email or contact or physical address on this page. The best way is to use the Jetpack contact form or a free plugin called Contact Form 7. This form will collect information like a person's name, contact details and message straight to your email.
Privacy Policy: You know when going online the biggest concern that people show is their privacy. It is a threat where identity theft, scams, frauds all this can happen. So, it is important that you create this page and let people know what you do on the site, what kind of data you store and how will you use this data. You can visit my Privacy Policy here and you will get the idea of what I am talking about.
About: You want to tell people who you are or what your blog is all about. 90 percent of the people who will come on your site would want to know what is the blog and who you are. It is like your introduction to the world.
Writing Your First Epic Post
Content is the King of the blogging industry. After doing all the above it is time to write your first post. Dashboard > Post > Add New you will get to the editor page. Write a title this is your first post so don't worry to speak your mind.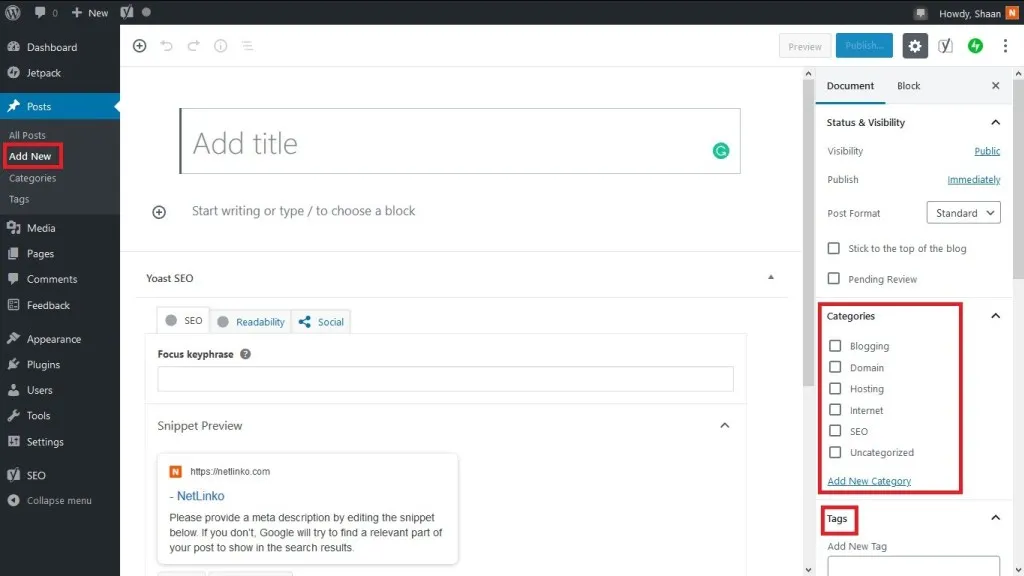 If you want you can do a bit of research on the topics and find a good topic by using Free Keyword Research Tools.
Make your title compelling that people want to click and read more. Then start with the body content, add some great copyright free to use images. Select appropriate category, tags, URL for the topic. All this helps you in on-page optimization.
As this is your first post and you are doing it for the first time just relax and congrats yourself for the effort you have made till now. Don't worry posts can be deleted or edited anything so go ahead.
Try to write at least 1000 words on the topic, connect with your audience, give them what they are looking for. Read more about on-page SEO and Content Marketing this will give you an idea about how to write a post or create content.
Once you are done just hit publish and you will have your first post in place.
How To Make Money From Your Blog
This is a bonus for you all after you have written some posts and have content on your site you can now think of monetizing your blog. I think making money would defiantly excite you. For me, it is like music to my ears.
The opportunities here are endless.
So, here is what I would like to do for monetizing my blog:
#1. Start Google Ads – For this you should have good content and traffic to earn. Once you get approval from Google Ads you can place Ad codes to your blog or let Google optimize it for you.
#2. Affiliate Marketing – You can make big money by referring to other products or services that you don't own. This can be by affiliating Amazon products or affiliating with Hosting Providers or other services. You have to look for products that are in your niche and just place a link on your site.
#3. Selling Digital Products & Services – You can sell your own digital products or services on your blog. You can create an eBook and sell it on your blog. For this, you can integrate with PayPal or a payment gateway.
#4. Sell An Online Course – You and sell a course online, education is a big business and if you can help people with the knowledge you have on the topic for a price. You can use free platforms like YouTube as well for this kind of service.
#5. Sponsorship – You can look for sponsorship for your blog. This can be a local business or MNC that would like to pay you for writing or creating content that is useful for people. They might also want you to convey a message to the word about some important issues.
All this is only possible if you work hard and keep your patience on an all-time high. These will not happen from Day One. It will take you some time in reaching this place where your blog will start earning money for you.
Conclusion on How To Start A Blog
It is very easy to start a blog and if you follow the steps you will not have any problem with you to start. There more when it comes to blogging and you will know about them in time. Decide your niche and social connections will generate the initial traffic that you need while you start.
While blogging you should also know that it is a commitment and you have blog regularly. The audience is looking for solutions and you help you have to be generous enough to share your knowledge.
Don't panic it is your blog and you are in control always try to stay positive towards your blog. Castles are not built in a single day and neither are blogs. Give enough time for your blog to grow and become a brand.
I am keen on knowing if this article was useful for you and helped you in starting your blog. You can leave your experience in the comment section and I will personally congratulate you on starting your blog.
FAQ on How To Start A Blog
How Much Does It Cost To Start A Blog?
For starting a WordPress blog with hosting with the cheapest hosting $20 for a year. With Blogger the only cost is your domain name which comes out to be $10.
How To Start A Blog And Make Money?
If you follow the above guide you will be able to start your blog and also monetize it after creating content. You can make money only if you get a good amount of traffic to your blog.
How To Start A Blog With No Money?
You use Blogger, WordPress, Wix or Weebly free plans to start a blog and later monetize it like other professional custom blogs.
How To Start A Blog Business?
You can use the above guide and create multiple blogs and start a business in blogging. Earn while blogging, blog consulting, selling and buying blogs, selling digital products or services on blogs as a business.
How To Start A Blog On Instagram?
Instagram is more of a photo blogging platform, where you have to post pictures in a niche along with hashtags for discoverability.